Two Days National Workshop on Automobile Prototyping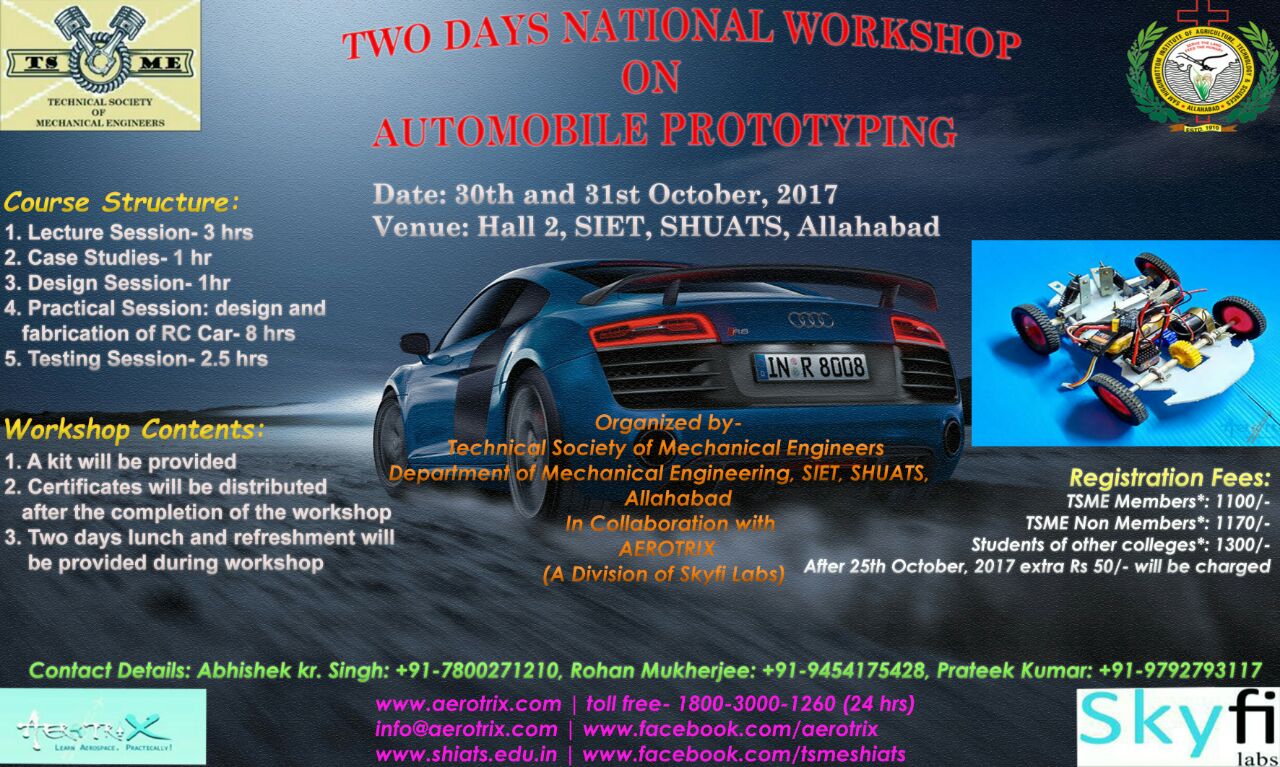 What is this Workshop about?
Automobile engineering is a fascinating career path demanding hands-on skills in design and manufacturing along with the knowledge of latest advancements. In this course, you will develop these skills by building a scaled-down prototype of a car on your own.
By making this automobile prototype which can be controlled by a Radio Control, you will learn about the dynamics, control and overall design of real vehicles. You will make your model car with working copies of automobile systems like transmission, suspension, powertrain, steering, locomotion and the chassis. This will help you develop a deeper understanding of automobile engineering and give you necessary practical skills useful for the automobile industry.
Workshop Highlights:
Design and build your own RC (Radio Controlled) Car with powertrain, suspension and steering systems.
Designed as a bridge course for mechanical/aeronautical engineers to enter the field of Automobile Engineering.
Comparative case studies about on-road automobiles for better understanding.
Kit Content:
1. DC Motors
2. Electronic Speed Controller
3. Transmitter
4. Receiver
5. Li-Po Battery
6. Servo Motor (1 piece)
7. Suspensions
8. Wheels (4 pieces)
9. Plastic Gears
10. Chassis
11. Control Rods
12. Epoxy Glue
13. Working Tools
14. Other miscellaneous items
Note:
All the above components will be provided during the program to participants in groups of 5 but would be taken back at the end. This is being done to reduce the cost of the program and make it affordable for students.
Why Skyfi Labs?
Skyfi Labs
- An award winning company working towards transforming textbook geniuses into productive engineers.
Awards won by Skyfi Labs:
1. 2nd Best Business Venture Award, Ideas, IIT Kanpur
2. 30 Most Promising Startups, Next Big Idea, IIM Bangalore
3. Runner-up, UnLtd India Growth Challenge
4. Limca Book of Records
5. Associated with industry and partnership with organizations transforming engineering education
6. Altair Engineering
7. Boeing
8. IUCEE (Indo-US Collaboration for Engineering Education)
9. Startup Village
The courses are officially a part of IIT Delhi Syllabus and IIT Kanpur orientation programs
Experience of training students across 27 states in India and Dubai (Presence)
Improved performance of students in Campus Placements
A venture by IIT Kanpur alumni and funded by The Chennai Angels and Spark Capital
Enrollment Form

Enrollment Form

Automobile Prototyping
Contact Details
Abhishek Kumar Singh : Ph: +91-7800271210
Rohan Mukherjee : Ph: +91-9454175428
Prateek Kumar : Ph: +91-9792793117